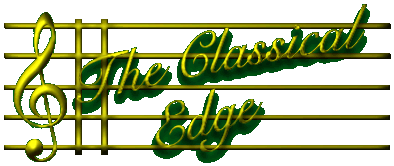 DREI'97
MUSIC PROGRAM
Wednesday, 30 July 1997
Quarteta Vita
Danwen Jiang: violin
Dorothy Sobieski: viola
Elizabeth Thompson: cellist
Hanfang Zhang: 1st violin
PROGRAM
Quartet in Bb, Op.76, No.4 - Franz Joseph Haydn (1732-1809)
Allegro
Adagio
Menuetto-Allegro
Finale - Allegro ma non troppo
Quartet No.1, in C Minor, Op.51 - Johannes Brahms (1833-1897)
Allegro
Romanze - Poco adagio
Allegretto molto moderato e comodo
Allegro

Born in Beijing, Danwen Jiang received her early violin training from her father. At age ten, she was selected as a "young prodigy" by the prestigious Central Conservatory of Music in China, where she continued her studies. At thirteen, she made her solo debut with the Central Radio Philharmonic of Beijing. Shortly thereafter, she recorded for the China Record Company. Since her arrival in America in 1987, Miss Jiang has won numerous competitions and performed to critical acclaim with several orchestras in the United States and Canada. Her main musical mentors include Arnold Steinhardt, Jamie Laredo, Oscar Shumsky, Michael Tree, and Taras Gabora. As a recitalist and chamber musician, Miss Jiang has been sponsored on tours of Italy by the renowned Gioventù Musicale of Italy. She has appeared at a number of music festivals in France, including Festival Dans Le Gard and Festival Du Quercy Blanc. Danwen Jiang has also been a featured guest artist at the Rutgers Summerfest in New Jersey, the Seattle based "Soloists of the Pacific Rim," the Kneisel Hall Music Festival in Maine, the Manchester Festival, and the "Boston Players," for whom her performance was hailed by the Boston Globe as "very agile and very intelligent." Miss Jiang is a founding member and the first violinist of the Quartetto Vita.
Born and raised in Warsaw, Poland, Dorothy Sobieski began her music education at the age of seven. She graduated from the Karol Szymanowski State Secondary School of Music with honors and continued her education at the Fryderyk Chopin Music Academy where she received a diploma with distinction in 1992. Mrs. Sobieski also holds a Master of Music degree from Louisiana State University and the Doctor of Musical Arts Degree from Rutgers, The State University of New Jersey. She studied under Michael Tree, Jerzy Kosmala, Artur Paciorkiewicz, and Wolfram Christ. Dr. Sobieski's extensive musical experience includes performances with a number of orchestras, chamber ensembles, as well as solo appearances throughout Europe and the United States. She performed with the Beijing Piano Quartet, Newstead Trio, I Solisti di Varsavia, and appeared at two consecutive Mozart Festivals in Warsaw, as well as the Rutgers SummerFest. Dr. Sobieski was a member of the European Youth Orchestra under Sir Yehudi Menuhin at its celebration of the Tenth Anniversary of the Yehudi Menuhin Foundation in 1990. She also performed under the direction of two outstanding Polish composers, Witold Lutoslawski and Krzystztof Penderecki. Dorothy Sobieski was awarded the International Primus Inter Pares Award, President of the City of Warsaw Scholarship, Polish Ministry of Culture and Arts Scholarship, a Special Award for the Best Soloist at the International Music Festival in Bydoszcz, Poland, and second place at the Graham-Stahl Competition in Trenton, New Jersey. Dr. Sobieski plays on a 1995 viola made by Mr. Hiroshi Lizuka of Philadelphia.
Elizabeth Thompson has achieved distinction as a solo cellist, a conductor, and a chamber musician. She has performed extensively in the United States, Germany, Australia, and New Zealand presenting recitals, master classes, and lecture-demonstrations. She performs as solo continuo cellist for the Westminster Choir and Princeton Pro Musica and has served as principal cellist of the Boheme Opera Orchestra, Riverside Sinfonia, New Philharmonic of New Jersey, Garden State Philharmonic, and Philadelphia Virtuosi. She has been a guest conductor of the Rutgers Festival Orchestra, and the North Jersey Symphony Orchestra. She has most recently returned from a semester as Visiting Lecturer in Music History and Director of Orchestral Studies at North Carolina State University. Ms. Thompson has degrees from Oberlin Conservatory and Rutgers University, where she studied with Bernard Greenhouse, Zara Nelsova, and members of the Guarneri String Quartet. She is currently on the faculty of the conservatory at Westminster Choir College.
Hanfang Zhang is a native of Beijing, China, where she studied violin with Weijian Zhao at the Central Conservatory of Music. In 1993, she received third prize in the Leopold Shopmaker Midwest America Violin Competition. She received her Bachelor of Music degree from Oberlin Conservatory in 1996, where her accomplishments were outstanding. She won the Oberlin Conservatory Concerto Competition and performed Edward Elgar's Concerto for Violin and Orchestra with the Oberlin Orchestra under Louis Lane. In addition to appearing as a soloist in Honors, Orientation and Commencement recitals there, she served as concertmaster for the Oberlin Opera Theater's productions of The Marriage of Figaro and The Seagull, as well as for the Oberlin College Choir. Miss Zhang was also the concertmaster when the Oberlin Chamber Orchestra performed Bach's B Minor Mass at Severance Hall in Cleveland. She served as concertmaster for Alexander Schneider's New York String Orchestra in concerts at the Kennedy Center in Washington, D.C., and at Carnegie Hall. Miss Zhang has participated in master classes with Sylvia Rosenberg, Felix Galimir, Isadore Cohen, Bonnie Hampton and Zara Nelsova and has had chamber music coachings with the Tokyo String Quartet and the Guarneri String Quartet. She is currently a scholarship student of Arnold Steinhardt in the Master of Music program at Rutgers' Mason Gross School of the Arts.
---
Wednesday 6 August 1997
Positive Rhythmic Force
Jason Berg: trumpet
Noah Baerman: piano
Ben Tedoff: bass
Sunny Jain: drums
Positive Rhythmic Force is a quartet of accomplished musicians dedicated to performing music from the jazz tradition and beyond. Comprised of Jason Berg (trumpet), Noah Baerman (piano), Ben Tedoff (bass), and Sunny Jain (drums), Positive Rhythmic Force draws upon a wide variety of music. The group's repertoire ranges from original compositions to personalized interpretations of standards by the likes of Duke Ellington, Thelonious Monk, and Cole Porter. PRF's music will be a pleasant ending for a busy day.
Individually, the members of PRF have recorded for Ellipsis Arts and API Records, and have performed extensively throughout the USA, Canada, and Europe. The four members have performed with jazz greats such as: Stanley Cowell, John Faddis, Jackie McLean, Rufus Reid, Larry Ridley, Arturo Sandoval, James Spaulding, Akira Tana, Clark Terry, and Chucho Valdez. They have received many honors including awards from the Eastman School of Music, the National Foundation for Advancement in the Arts, and Downbeat Magazine.
Collectively, Positive Rhythmic Force has released a CD and is currently performing throughout the Northeast. Some of their notable appearances include:
Black Entertainment Television (BETV); Jazz Discovery Showcase
The Greater Hartford Festival of Jazz. Opened for the George Shearing Quintet; Hartford, Connecticut.
Arts on the Square Music Fest; Union Square Park, New York.
There is Hope! African-American Music Festival; Franklin, New York.
Positive Rhythmic Force's experience includes clinics and concerts at educational institutions as well as interdisciplinary performances incorporating such elements as modern dance and spoken word poetry.
---
Wednesday 13 August 1997
Syreeta Thompson Quartet
Syreeta Thompson: trumpet
Thaddeus Hammond: bass
Brandon McCune: piano
Paula Robinson: drums

The Syreeta Thompson Quartet is a young, contemporary jazz group with a mature, traditional sound. Equally at home in the worlds of New Orleans Dixieland, urban funk, and cosmopolitan jazz, this group can be heard on record with George Searight and the Royal Priesthood.
Syreeta is a native of Chicago who came out to the New York City area to study at Rutgers University. Since her arrival on the coast, she has captured the attention of many well-known jazz artists, Wynton Marsalis, Frank Foster, Betty Carter, Ed Thigpen, and Terrence Blanchard are among those with whom she and her quartet now regularly perform. She can be heard live weekly at Chesters Cabaret, Friday nights from 7:30 'til 11:30.
---
Site Maintained by: Elaine Foley
Revised date: July 6, 1997