Home
---

Rutgers Home
K-8 Leadership Program
Exploring Discrete Mathematics in the Classroom
2000 Institutes
---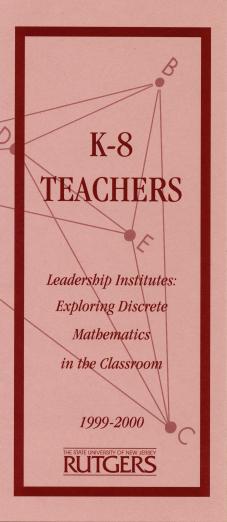 This program features contemporary topics in mathematics that can be used in K-8 classrooms. Participants attend a ten- or twelve-day summer institute, four Saturday follow-up sessions during the subsequent school year, and a one-week institute the following summer.

Program participants will learn about discrete mathematics and review and prepare materials that they can use to introduce these topics in their classes. Previous program participants will report on their classroom experiences and share instructional materials they have prepared and used successfully.

The program is structured to encourage active participation. Those who attend will be involved directly in the learning process through use of workshop groups, participant presentations and discussions, and problem-solving sessions.

The program will prepare teachers to introduce discrete mathematics into the classroom and the curriculum. Participants will be expected to develop instructional materials for their own use and for use by other teachers, and to present workshops on institute topics in their schools and districts.
Who Should Apply?

The institutes are designed for selected middle school and elementary school teachers, as well as K-8 mathematics supervisors and specialists. Teams of teachers in schools and districts, from the spectrum of K-8 grade levels, are welcome to apply.

When & Where Are The Institutes?

Residential Institute

June 25 to July 7 (including July 4), at Rutgers University, New Brunswick, NJ; Participants will be housed at a nearby hotel.

Contact Bonnie Katz at bonnie@dimacs.rutgers.edu or 732/445-4065.

Commuter Institutes

In Your Region?

This program can be replicated in your region, either as an institute or as a sequence of one- or two-day sessions during the school year. For information (including fees) contact Janice Kowalczyk at kowalcjn@ride.ri.net or 401/841-5583.

Are There Any Fees?

There are no fees for this program, due to funding from the National Science Foundation. NSF support will also pay for refreshments for the commuter institutes and for meals and lodging (double-occupancy on weeknights) for the residential institute.

What Are The Application Deadlines?

Applications for the residential institutes and for all commuter programs will remain open for a few more weeks on a space available basis. For those applying late (after May 1st) we advise you to submit your applications ASAP and to call first to check on availability.

Is Credit Offered?

Four graduate credits, two each year, will be awarded to teachers who participate in the entire two-year program and complete additional written assignments.

Have Any Questions?

For further information, or to receive an application, contact the person listed for each institute. For information about all institutes, contact our office by email at bonnie@dimacs.rutgers.edu; by phone at 732/445-4065; by fax at 732/445-3477; or by mail at the address below.

Leadership Program in Discrete Mathematics
P.O. Box 10867
New Brunswick, NJ 08906-0867

Who Sponsors The Institutes?

The Leadership Program in Discrete Mathematics is sponsored by the Center for Discrete Mathematics and Theoretical Computer Science (DIMACS) and Rutgers' Center for Mathematics, Science, and Computer Education (CMSCE). Funding is provided by the National Science Foundation and DIMACS.
Joseph G. Rosenstein, project director
Janice C. Kowalczyk, assistant project director
Bonnie J. Katz, project coordinator
---

This project was supported, in part,
by the
National Science Foundation
Opinions expressed are those of the authors
and not necessarily those of the Foundation
---
You are visitor
since 1-6-99.