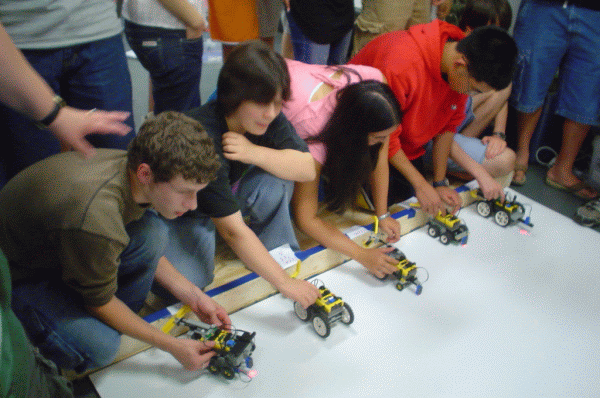 Robotics Challenge #3
Objective: There are four tasks in this one. You have to start at this wooden platform, and from there you can move to whichever task you wish to complete. However, you can't touch the robot unless it's on or touching the platform.
The first task | The Lighthouse
Basically, just get your robot off the platform and program it so that it hits a button that turns the light in the lighthouse on. You can run over the button contraption apparently. (We did that and she said it was okay.)
The second task | The Bus Stop
Run the robot off the platform if it's on it and program it so that it sends mail to a recieving robot (the receiver is part of the "board"). When the mail is received, the gate is raised and your robot can go through. The robot has to pass a black line the marks the entrance of the bus stop. The owners of the robot then has to manually place these lego people inside the robot (hopefully these people created some type of compartment for it). There are also some cones around the bus stop. For every cone that isn't pushed totally off the center of an X under the cones, the team receives 5 points.
The third task | The Bridge
You have to manually place a plank of wood onto your robot while it is on the platform. Then, it has to go off towards an "unfinished bridge" where it must place the wooden plank on top of the "unfinished bridge". This was probably the hardest.
The last task | The Staircase
The robots have to push this staircase onto an airplane printed on the course. Can't go past the airplane, can't get pushed off by the robot while it is performing another task, and it has to touch somewhere on the print.
RULES:
The robots must touch/be on the platform if the team wants to handle it.
Everytime the robot was touched while not on the platform, 10 or 15 points was deducted from the score.
The team with the highest score wins!

The Experience:
Ha I remember Brian had the tallest robot. Not the brightest idea either. Kept falling over on its side whenever it made its way down the ramp with the plank. I don't remember what other tasks he finished, if any. The bridge one was just the funniest one to watch, so that's all I remember.

We won second for this one :) Not bad, a first place, a no place, and now a second place. Biswas did most of the work...of course o.O

This part had the most pics. Cuz the camera was charged overnight. YAY!

Oh, don't mind the zebra pic in there.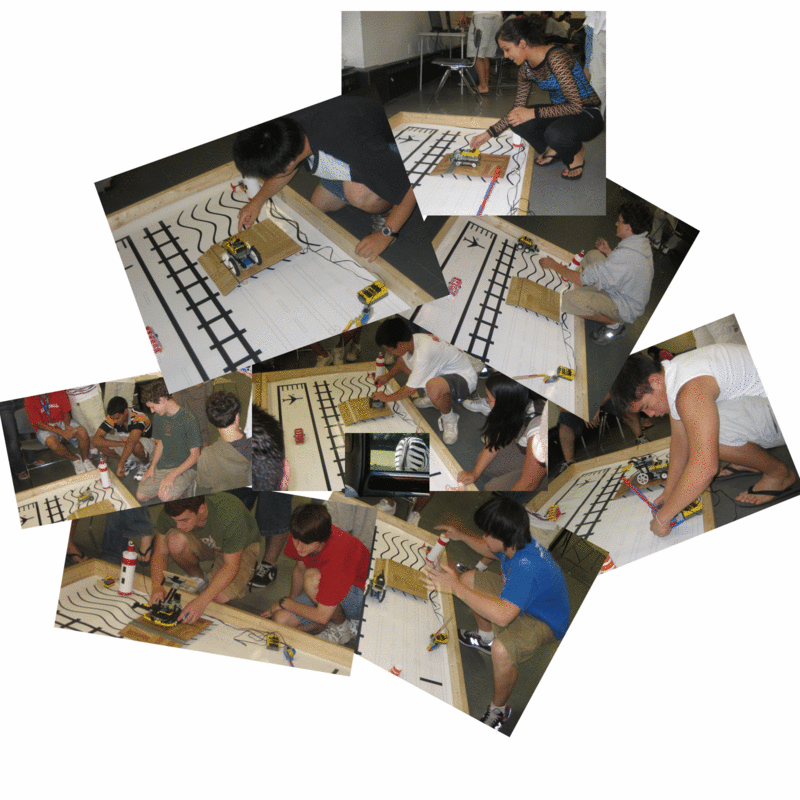 Copyright © 2006 Steph&Nori - All Rights Reserved.